About The Framework Boot Camp
There are few career paths as flexible, lucrative and enjoyable as software development. For decades, the field was difficult to break in to for those who didn't have university degree in computer science. However, in recent years, the demand for qualified developers has outpaced the supply of degreed individuals. This shortage of computer science degreed job candidates has opened the field to alternative training programs. Framework is a unique training program for new software and mobile developers that will prepare qualified candidates for their first job in industry even if they've never written a line of code before.
The program utilizes a blended learning paradigm that combines at-home lecture, reading and skill-building combined with mentored instruction and projects in our convenient training center. This approach offers both flexibility for those working and the seriousness of a professional bootcamp experience.
Framework is designed so participants leave the program with not just a new, professional skill set, but with recognized industry certifications, experience and a portfolio of work to show exactly what they are capable of.
This is where you start...
The Framework Bootcamp Program is a transformational program that takes you from where you are to professional web or mobile developer. Many people want to jump in with both feet. This Framework Prep Program allows you to start learning right away. As you're getting started we'll send you information about the full Boot Camp program and how you can participate.
Instructors-- Not Just Video
Have questions? As a member of the Framework Boot Camp Prep program, you'll have access to a LearnToProgram Instructor Mentor who is assigned to help you. This is a program designed to get you making progress and learning new skills immediately. You'll get quick answers to your questions through our online community.
Mark Lassoff, Lead Instructor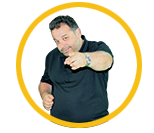 Mark Lassoff has almost 20 years experience teaching people computer programming. Over the years he has taught almost one million students online and in person. Mark's expertise is in web development and mobile,but he has always considered himself a teacher first and technologist second. Mark speaks worldwide on online learning and coding. He lives in Milford, CT with his cat Gertie.
Instructor Mentors
Dave Moran

Dave Moran is a developer that has worked in both the Stamford and New Haven tech scenes. Working for a number of digital agencies as well as on his own freelance projects, Dave has seen projects ranging from simple small business websites to large e-commerce sites and a recreation of LinkedIn. Dave graduated from Norwalk Community College with an associate degree in Computer Science, and graduated from the University of Maryland on May 2017 with a degree in Digital Media and Web Technology.
Henry Quinn


Henry is the programmer for the United States District Court, District of Connecticut, where he supports custom built web applications and works on MVP's for national projects. He graduated from Champlain College with a Computer Network & Information Security degree and thoroughly enjoys instructing others on how to get started towards a career in programming. In his free time, he lifts weights, goes camping, runs a fantasy football league, and tears through space opera novels. Is it football season yet?