Be a Professional Web or Mobile Developer. Your Path Starts Here.
Even if You've Never Written a Line of Code Before
Obviously, you've thought about it: A career in software development.
You've seen all the statistics--
Hundreds of thousands of available jobs.
Double digit job growth for the foreseeable future.
Numerous opportunities to work freelance or in a formal setting.
Now is the time to imagine your future in professional web or mobile development.
Earn Money Doing Something You Love
In many communities average salaries for experienced developers are above $100,000 a year. Along with physicians and pharmacists, as a developer you'll be among the highest paid professionals. Pay is just one reason to join the ranks of professional developers.
The fact is high salaries do you no good if you can't enter the field. However, development is a field where only one thing matters.
No one cares where you went to college, or if you went to college. There are successful developers who have had careers as musicians, teachers and flight attendants. Development is a field that welcomes newcomers.
It's not about where you grew up or who you know. There is only one thing that matters in a development environment: Do you have the skills?
How do I Get The Skills? Where Do I Start?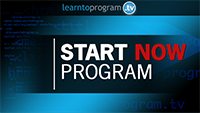 You start with a commitment. But, that commitment is two way.
You commit to working through our Start Now Program and we guarantee you'll begin to build the sought after professional developers skill set that you need. In this section you'll acquire skills including HTML, front end and back end development as well as procedural programming.
We commit to working with you every step of the way. You're not alone in this. Our instructors are available to answer your questions-- as are others who are learning with you. You'll interact with your instructors and fellow students through Facebook, and within our convenient onsite forums. Frankly, there is nothing we won't do to help you become a professional developer.
Can I Actually Do It?

In a word: yes!
Start with three free lessons and transport yourself in to the world of professional development. You'll learn about the world of professional development and your bright future working in it. Submit your email address above to start right away!